REAL ESTATE
OPENING DOORS TO A BETTER LIFE

With more affordable housing, less commuting and access to hills and beaches, more and more people are calling South Australia home


South Australia is renowned across the country for its affordability when it comes to buying property, but that doesn't mean it lacks luxury listings or multimillion-dollar mansions. In fact, Adelaide and its surrounding regions offer plenty of palatial beachfront homes and sprawling acreage estates on par with those found in Melbourne, Sydney and Brisbane, just at a cheaper price point. While certainly enticing, it's not just affordability luring interstate residents to the south. Less traffic congestion, quick and easy access from the beach to the hills and the city to the wine regions, distinguished schools and universities, as well as world-class restaurants and a culturally and artistically diverse arts and entertainment industry offer a lifestyle to be envied.
"We certainly represent an incredible lifestyle opportunity," says Brett Roenfeldt, industry veteran and South Australian independent auctioneer who has conducted more than 20,000 auctions throughout his extensive career. "It's a slightly different lifestyle – more laid back, I'd suggest. We don't have the harbour views but the lifestyle in Adelaide means you're within an hour's drive from world renowned wine regions."
It's a lifestyle most people can afford to indulge in as well, as the cost of living and property prices are much cheaper than in the eastern states. "You could pay say $2 million for a pretty nice property here and the equivalent-type property in Sydney would be more than double that," Roenfeldt says. "You would be getting the same sort of accommodation, the same quality fit-out, the biggest benefit of course is we've got the liveability of that property. We're such good value."
Klemich Real Estate director Matt Smith says many residents hailing from the eastern seaboard are starting to realise what they are missing out on. "In speaking to interstate buyers who are looking in Adelaide, they say, 'You don't know how lucky you are'," he says. "Adelaide provides not only a fantastic lifestyle but it offers affordable accommodation. There's very, very good value buying in Adelaide. What's deemed to be a high-end property in South Australia would be perhaps a minimum range property in Sydney, as an example."
Sydney's $1 million median house price is more than double Adelaide's, which stands at $493,000, latest realestate.com.au figures show. While not as pricey, Melbourne is still much more expensive, with a median of $745,000, while Brisbane's $549,999 is marginally higher.
The price disparity between the four cities is more evident when comparing sales records. In 2018, when tech billionaire and Atlassian co-founder Mike Cannon Brookes bought Double Bay mansion Fairwater from the Fairfax publishing family, he not only set a record for NSW but became the first person to pay more than $100 million for an Australian house.
While only half of that, Victoria's record stands at $52.2 million and Queensland's at $25 million – both much higher than South Australia's $7 million sale record.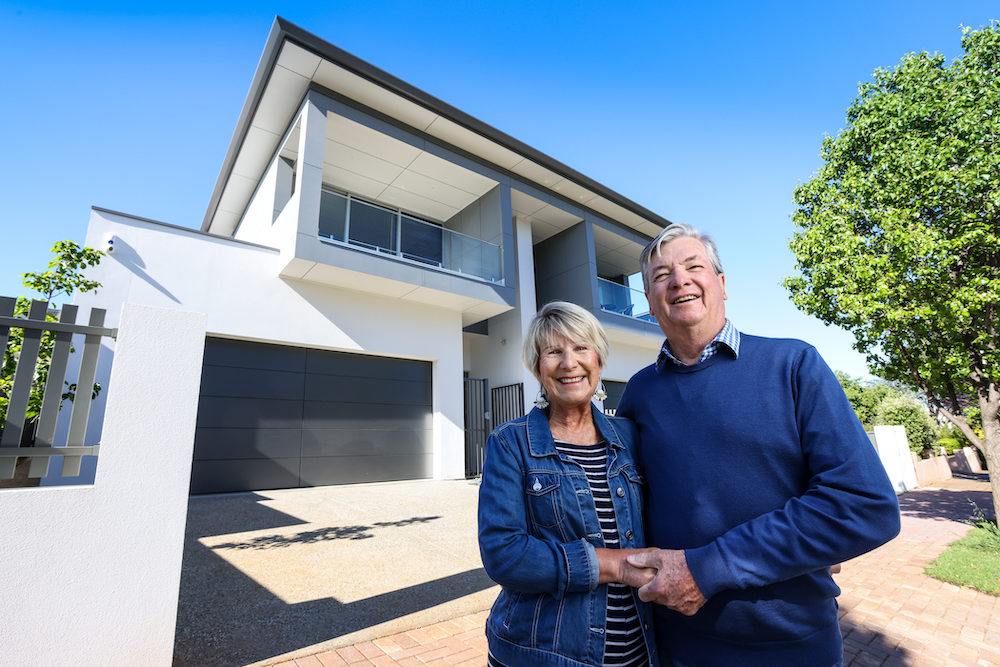 Ours is understood to be higher after prominent North Adelaide property Bishop's Court, which was expected to fetch more than $10 million, sold in September but the price wasn't disclosed.
Ouwens Casserly Real Estate agent Cynthia Sajkunovic sold a waterfront mansion at Henley Beach in January for $5.68 million, one of the highest sales recorded last financial year. "Locals have been quite shocked by those prices but the interstaters certainly aren't," she says. "They see it as really good value. For high-end properties, you certainly get greater value here than you get interstate."
David and Maree Crichton are among those who have moved to Adelaide from interstate in recent months. They returned to Adelaide, where they lived for 10 years a few decades ago, to be reunited with family after moving to Brisbane about 20 years ago for work. Now retired, the couple want to be able to spend more time with their growing family.
"We looked at our time in life and we thought, 'if we don't make the move now it's going to be too difficult'," Ms Crichton says. "It's been a good move for us."
The couple bought a new four-bedroom house in St Georges for just over $1.4 million after selling their Balmoral home, which they also bought new two decades ago, for slightly less. They now have a bigger and newer house, a slightly larger block, are closer to the city and are enjoying being able to get around without getting stuck in gridlock every time they get in the car.
"It's not nearly as congested," Maree says. "We had to pay a little bit more than we were anticipating but we got a better deal – we realised we got a better deal after we were living in here. "We thought we'd downsize but we've actually upsized.
"I think the first week we were here, we really didn't believe we were living in this house. We were a little bit surprised we got the property."
The couple acknowledge they would have to spend much more on a larger block to be able to build a house of that size and calibre in Brisbane. These days, most of the new properties being built in the area they left are townhouses and units, so they would have had to have moved further away from the city if they wanted a new established house.
It is not just interstate residents discovering Adelaide's great value and enviable lifestyle, though. Williams Real Estate partner Stephanie Williams has recently been helping families from Hong Kong, London and New York find properties in South Australia
"Adelaide has really got a global presence right now," she says. "In Sydney, it's all about the harbour views, in Adelaide it's all about the leafy streets. With what they could buy in Sydney, they can get a beautiful house in the eastern suburbs as well as a beach house.
"We've got it far better here in South Australia."