HI-TECH
ADELAIDE A PERFECT PLATFORM FOR HI-TECH GROWTH

With start-up accelerators like Stone & Chalk providing fertile platforms for growth, there's never been a better time to establish a tech-centric business in SA
Switched-on Adelaide teenager Will Bishop is loving life on the ground floor of South Australia's hi-tech future at Lot Fourteen. The 18-year-old app developer took up a residency in the Stone & Chalk start-up hub at Lot Fourteen last October, before securing a position with independent Canadian-based tech firm User Camp several months later. Stone & Chalk is powered by FIXE, the Futures Industries eXchange for Entrepreneurship, which aims to make South Australia a national leader in this field.


The former Glenunga International High School student – who admits fine-tuning his skills as a result of boredom during assemblies – has already produced a number of apps which between them have been downloaded almost 775,000 times. Among them are Nano, released for Reddit in April 2018, and Twitter app Chirp, for the Apple Watch, which followed shortly after. "Chirp and Nano have been more successful than I could have ever dreamed, Chirp especially," Bishop says.
After considering studying computer science at Flinders University – a lack of the correct maths prerequisites ruling out The University of Adelaide as an immediate option – the Glen Osmond teen decided work was a better choice.
"I was on Twitter one night – bored, again – and saw a job listing for a company in Canada wanting someone with experience in something that had come out about six months earlier, which I had," he says. "So I applied and interviewed for them. They were already familiar with Chirp and seemed to like me ... and I've been working for them since January – and loving it."
With the option of working remotely, Bishop says being based in Adelaide is no impediment to wider success in the technological sphere.
"SA is unique in that, unlike the Silicon Valley, we're rather humble and quiet," he says. "Instead of shouting from the roof tops about how great we are, we'd rather succeed quietly – potentially to our global detriment. "However with Lot Fourteen, a lot of this is changing and SA is being positioned to be taken seriously on a global stage. As our entrepreneurial industry grows, the government is helping a lot of small businesses succeed."
Bishop says with start-up accelerators like Stone and Chalk providing fertile platforms for growth, there's never been a better time to establish a tech-centric business in SA. "While my business is all online, and can theoretically be done from anywhere, if in future I wish to expand, the talent pool is ever-growing.
"I always felt like the real opportunities were only in California and anything in SA – or Australia for that matter – would pale in comparison. While SA still has a way to go in catching up to Silicon Valley, we're well on our way – and it's certainly very exciting to be on the ground floor."
Bringing the past into the future
Associate Professor Diego Garcia-Bellido, a senior researcher of palaeontology at the South Australian Museum, is leading a project using cutting-edge technology to scan 555 million-year-old Ediacaran fossil beds at several world-renowned sites in the Flinders Ranges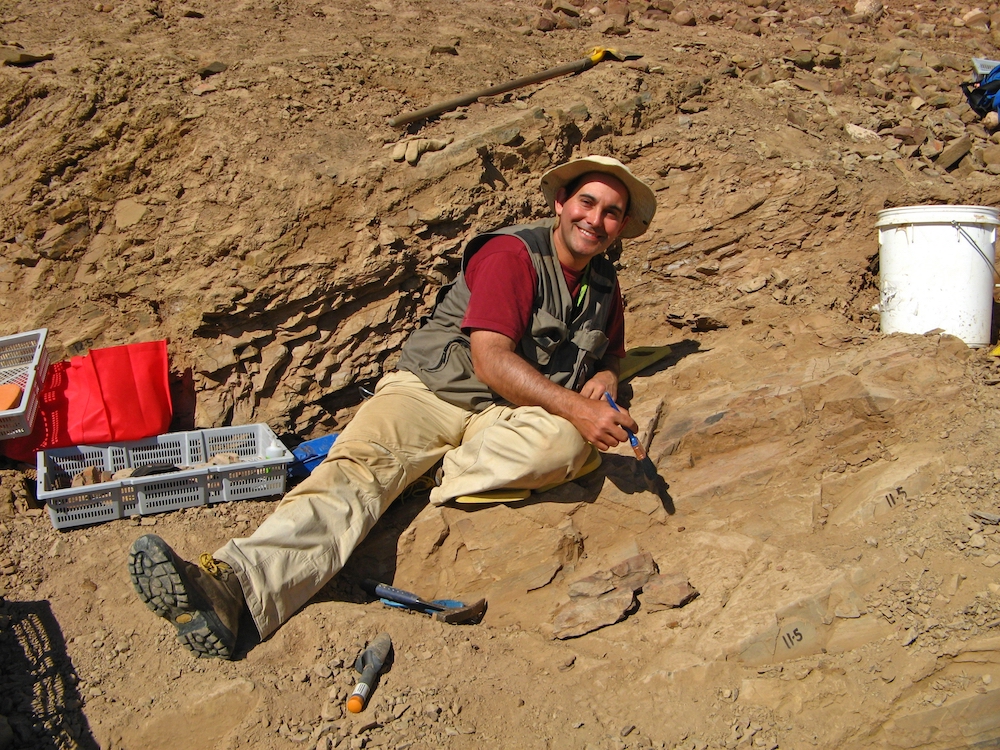 South Australia's ancient past is being brought into the future in the Flinders Ranges, with Associate Professor Diego Garcia-Bellido playing a key role in the process.
The senior researcher of palaeontology at the South Australian Museum is involved in a groundbreaking project using cutting-edge technology to scan 555 million-year-old Ediacaran fossil beds at several world-renowned sites throughout the region.
The work is backed by a team of palaeontologists, ecologists and 3D computer graphics experts from a range of institutions, including the museum and The University of Adelaide, where Garcia-Bellido also works. It uses a combination of precision laser scanning and high-resolution photogrammetry to create a permanent digital record of the sites – the first resource of its kind in the world.
The Spanish-born, internationally-educated academic says establishing such an archive of the oldest-known complex marine communities on earth – which provides an insight into early animal life – will prove enormously beneficial.
"South Australia, by sheer luck, has the best fossil record of this important period in Australia and one of the best in the world," he says. "Through this project we will gain unprecedented data on community formation in the early stages of animal evolution."
Garcia-Bellido says the scanned archive will serve a vital role in conserving the "priceless and irreplaceable" fossil information for posterity in case of damage or loss.
"And because you're making a permanent digital record, you can actually share it around the world easily as files and visit it virtually with VR goggles – something that's become increasingly important as COVID restricts our ability to bring colleagues and tourism from overseas," he says.
Archiving will also allow schools a rare glimpse into the past, with the possibility of leveraging findings into STEM studies nationwide. "We can make 3D printouts for students – and can allow schools to print them out with their own 3D printers – so they can learn about extinction, evolution, past biodiversity and how important it is to preserve our fossil heritage," Garcia-Bellido says. "We are teaching palaeontology in the three state universities now and we should soon be able to bring SA fossils to our primary and secondary school curriculums."
Preserving and promoting South Australia's "world-class palaeontological heritage" has far-reaching benefits.
"Fortunately there are several generations' worth of outstanding fossils to study in our state," he says. "And when state and federal governments support such research – which puts SA in news all over the planet – this can attract more tourism and business to our regions. "It will allow more South Australians to work on our amazing fossils if they'd like, while producing a local economic benefit."