STEM
HARNESSING A NEW CAREER VISION

Being based at Adelaide's Lot Fourteen puts the Australian Institute of Machine Learning in a prime position to dovetail with the innovation hub in exciting new STEM-focused careers
The future is now at Adelaide's Australian Institute of Machine Learning.
And – to help secure its cutting-edge position in the years ahead – there's nothing Dr Kathy Nicholson and Professor Simon Lucey would love to see than more of South Australia's smartest minds come through its doors.


It's the only way, they say, of remaining at the global forefront of the burgeoning artificial intelligence sphere, which is today moving out of the pages of science fiction and into real-world applications.
Being based at Adelaide's Lot Fourteen – in the repurposed former women's health centre building at the corner of North Terrace and Frome Road – puts the AIML in a prime position to dovetail with the innovation precinct in exciting new STEM-focused careers.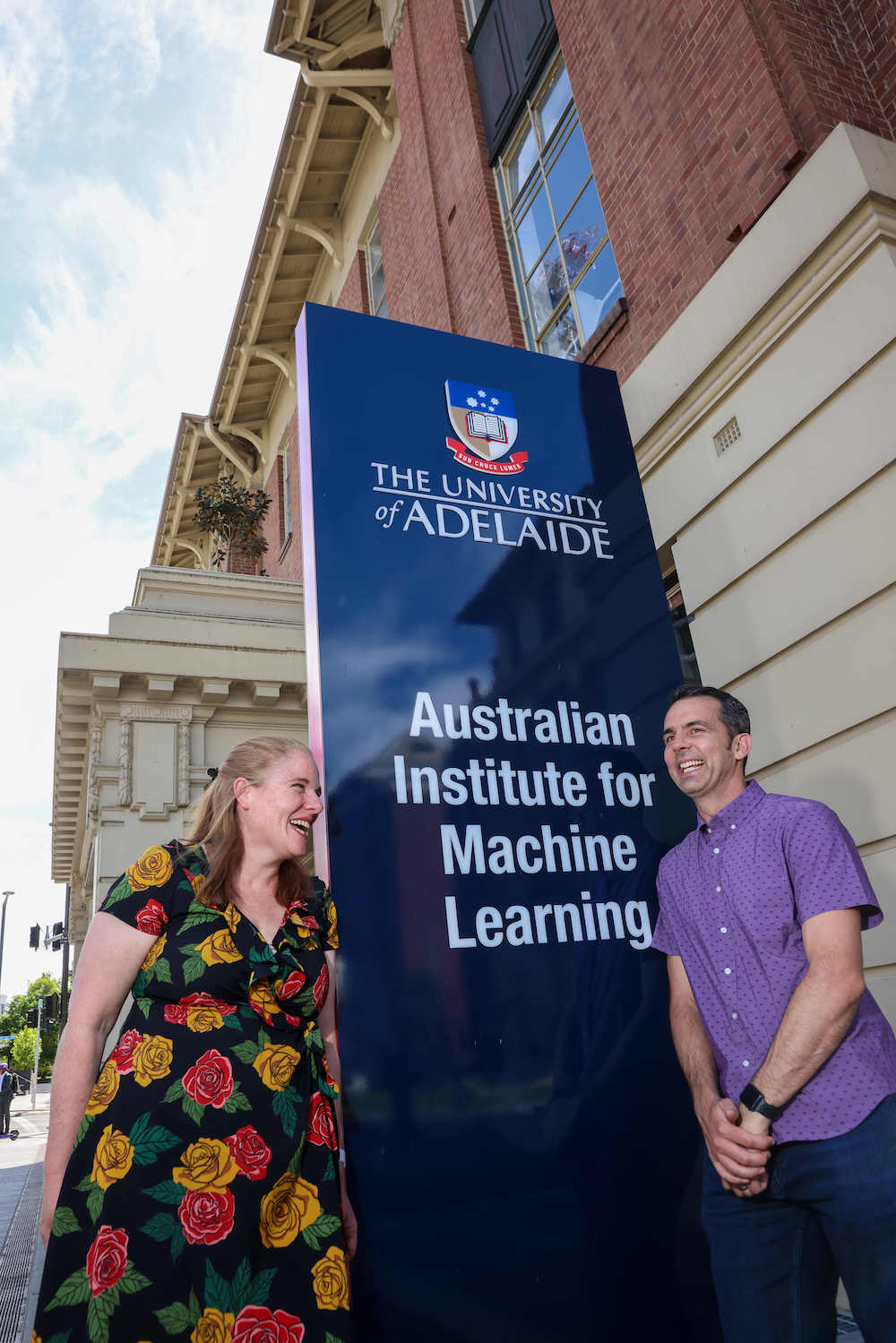 Dr Nicholson joined earlier this year as operations manager of the institute, which was established through "generous" funding from the University of Adelaide and the State Government two years ago. She believes the close alignment means computer science students with an interest in sectors such as space, defence, agriculture and medicine will virtually be able to see their careers being created around them.
Machine learning is fundamental to AI, involving the study of computer algorithms to "teach" computers through example. Among projects being tackled at AIML, computers are essentially being taught to detect and identify individual objects in photographs or video – research that could see applications as far-reaching as helping autonomous vehicles get around safely or to facilitate tasks such as grape picking.
"Australia is not going to succeed in this space unless we have educated people to drive ideas forward," Dr Nicholson says. "We need to create an ecosystem that enables and encourages our young minds to stay and contribute to Adelaide's growth. By partnering with Lot Fourteen, AIML students see real world examples of how machine learning and AI are disrupting our technological workforce. By partnering with industry and encouraging local internship we're actually helping create that workforce locally. That's definitely part of our vision."
AIML co-director Professor Simon Lucey says encouraging more primary and secondary school students into STEM – science, technology, engineering and mathematics – subject streams will be key to "maintaining excellence" in the area.
Also a Professor of Computer Science at the University of Adelaide, he recently returned to Australia to settle in Adelaide with his young family after six years in the US, where he taught at the world-renowned Carnegie Mellon University in Pittsburgh, Pennsylvania.
During this time he also worked for an autonomous vehicle company for three years as a principal research scientist, gaining valuable industry experience and perspective.
Professor Lucey says it is important to harness the "excitement around the technology" to inspire people to consider STEM subjects in their learning pathways.
"Australia needs more PhD (students) in computer science. We have to engage and build and get them early. We have to get them excited about the opportunities and the science … and let that passion transcend from the primary school years through to high school and university. We want the future PhD students of 2030 to start thinking about it now. We want them engaging now and thinking about their jobs."
Professor Lucey says it is important to foster an "economy and community of ideas" in Adelaide and to be pro-active in the sector.
"I think that's what's exciting about Lot Fourteen ­– there's room for commercial entities and educational entities co-located in the one area. It seems obvious, but if you look around the world, there's not many places doing it. Lot Fourteen is very unique for Australia ... there are not a lot of places with the ability, the forethought, or the nous to go and do what the SA Government did. So hat's off to them, and we have to pay back that trust and really create that ecosystem that generates up entrepreneurship and opportunities.
"It is the future. And if want to have a say in how the future is panning out we need our young people involved in STEM. That's where the pipeline starts – none of this happens unless we get the STEM stuff right in Australia from the start."
Dr Nicholson says the establishment of the AIML showed great foresight in a country that's traditionally been ahead of the curve when it comes to developments in technology.
"The state government and the university (of Adelaide) identified that we had to be part of the game – and if we weren't we were going to be left behind," she says. "Therefore they saw the incentive to set up this institute, which is flourishing – we went from 20 members two years ago to 130 members today."
Dr Nicholson says Australia has a huge reputation in the knowledge space, with the creation of wi-fi and CSIRAC – one of the first computers built in the world, in 1949 – among the nation's list of credits. "We have been hitting above our weight for a very long time but we don't celebrate that and push it through to our kids as much as we should."
It's also important to redress the gender bias by encouraging more girls to become involved in STEM subjects at an early age.
"The boys just go like moths to the fire – or to the computer game or whatever else ­­– but the way girls engage is often more subtle, and somehow, despite the best intentions of parents and teachers we are still leaving them behind," Dr Nicholson says. "It's changing, but we still have a long way to go, especially in this field."
Professor Lucey says if properly harnessed, the accuracy and efficiency of AI-assisted technology can deliver many benefits.
"Sometimes we get fearful, especially in western cultures, of this dystopian future of AI – the whole 'they're coming for our jobs and we're going to get beaten by robots' and that sort of thing – but AI has so many opportunities for good.
"I can't see, for example, AI replacing a radiologist any time soon – but I can definitely see a radiologist that's using AI replacing a radiologist that doesn't. So in terms of enhancing productivity – and basically being able to use humans in more efficient and better ways – is so important for Australia because our demographics can benefit so much from it."