the right place for an education
MAKING A HOME IN ADELAIDE
Growing numbers of overseas students are choosing Adelaide as the springboard to their professional careers - and it's a win-win situation for them and the wider community
They might not realise it, but Elma Li, Didier Cruz, Mark Ong and Marissa Menezes are part of South Australia's second-biggest export sector.
The quartet are among 38,000 overseas students who are presently calling Adelaide home as they carve out their own futures – while playing their part in building that of the state.


SA's international education sector was valued at $1.807 billion last year – just behind wine and other alcoholic beverages ($1.943 billion) but well ahead of the other more traditional exports of refined copper ($1.37 billion), wheat ($1.042 billion) and meat ($926 billion).


It's a startling statistic, but one Karyn Kent – chief executive of StudyAdelaide, the State Government's education support and marketing agency – says underscores the importance of foreign students to the economy as Adelaide positions itself as "one of the best student cities in the world".
Deloitte Access Economics reported in 2018 that for every four overseas students in SA, one job is created.
"These new jobs aren't just limited to our education institutions who deliver Adelaide's world-class education, they are spread throughout our economy," Kent says.
Purpose-built student accommodation is a case in point, with four buildings having been completed in 2018 and 2019 and a further four in the pipeline – including Hines Property's vision for a 124.2m tall tower at 29 Twin St. The 38-storey structure, costing $85 million, is set to be the tallest purpose-built student accommodation building in the world, providing a home for 510.
Li, Cruz, Ong and Menezes also represent a diverse overseas mix, with Adelaide hosting students from 130 countries.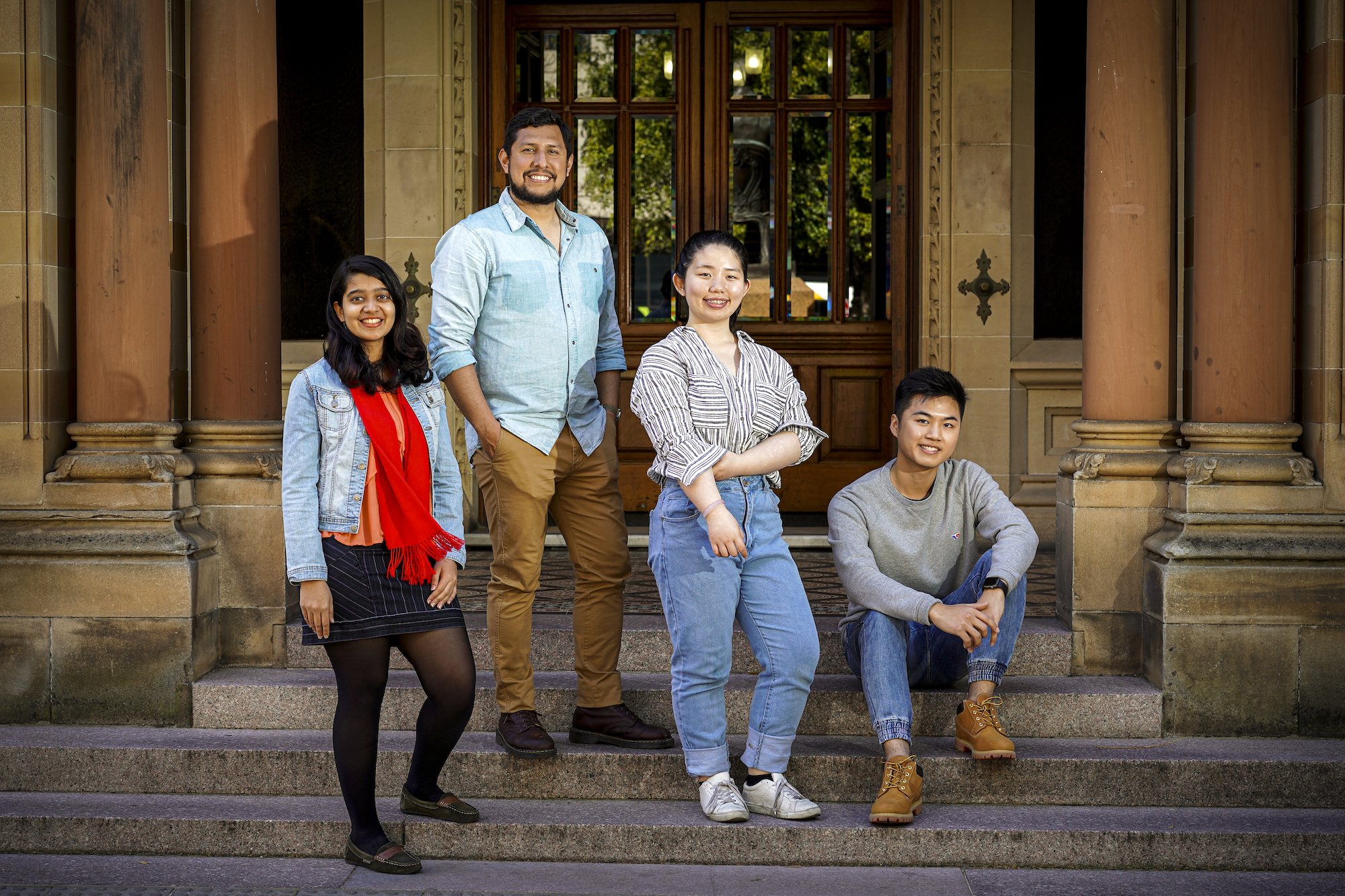 More come from China than anywhere else, with India, Hong Kong, Vietnam, Nepal, Malaysia, South Korea, Kenya, Philippines and Singapore completing Adelaide's top 10 foreign education markets. Japan, Brazil, Taiwan, Saudi Arabia and Sri Lanka are just outside the top 10. India is the top growth market, followed by Vietnam.


And overseas students aren't just contributing in a dollars and cents sense. They're also adding to the broader cultural mix through their willingness to take on part-time work and ambassadorial roles.
Meeting on sunny September afternoon at the University of Adelaide's historic Mitchell Building – the first constructed at the North Tce campus – all four were happy to extol the virtues of Adelaide life.
For 31-year-old Didier Cruz, of Mexico City, South Australia was a "tailor made" destination, given his long-held desire to study a Master of Wine Business degree.
The first-year student says he had worked for five years to make his way Down Under after his research had revealed the "more than perfect" mix of the University of Adelaide's course and SA's wine regions.


Cruz, who is sharing a house in North Adelaide and working among the "iconic wines" at the Penfolds Magill Estate restaurant while not studying, describes life in Adelaide as "amazing".
"I came without any friends or family, but I found a new family here and new friends," he says. "Adelaide helps you feel like you're not that far from your real family. It's a nice opportunity to get to know different people from different cultures.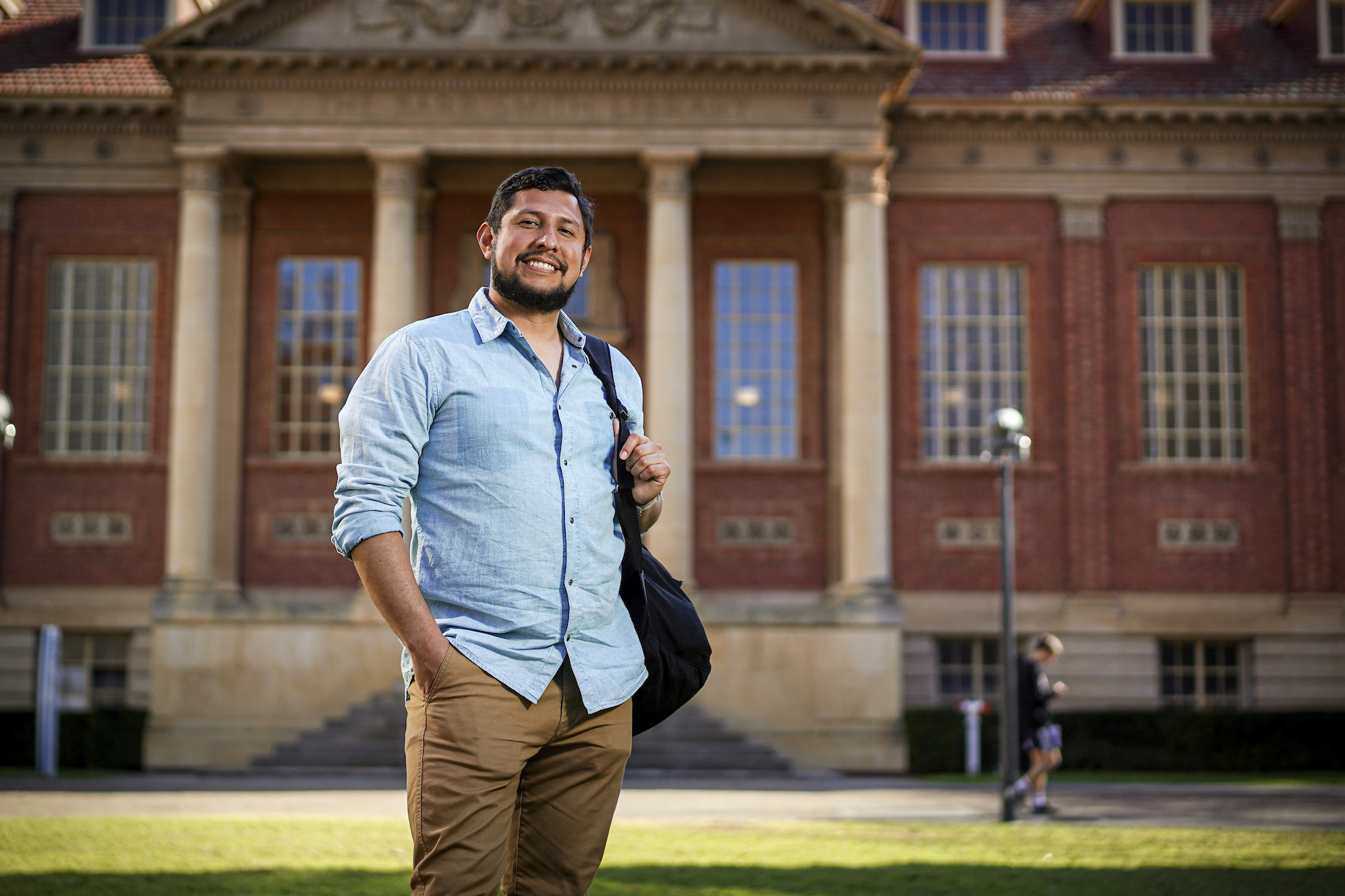 "I was looking for that multicultural integration to have a different development of my knowledge – and not just in the specific area of wine business. It's important to understand how other cultures, and other people think."
Hailing from the southern Indian city of Mangalore, Marissa Menezes, 25, is in her second year of a Master of Psychology (Clinical) degree at the University of Adelaide.
The University of Adelaide Village resident says she was keen to study in Australia "to just broaden my life experience" – and eventually settled on Adelaide because of the opportunity for extra-curricular activities.
"I applied nearly everywhere in Australia and got a few offers and ultimately chose Adelaide because for me it's always been important that I had a good extra-curricular component to go with my academics," she says.
Now a volunteer advocate for the Adelaide Symphony Orchestra – helping "engage and cultivate an appreciation of orchestral music in the younger people of Adelaide" – Menezes also assists with the City of Adelaide's The Wellbeing of Adelaide Youth mental health initiative.
She hopes she can secure work in her profession once her course is complete. "I love the lifestyle here – there's a good balance between work and everything else in life," she says. "There's an emphasis on having a life outside of work - it's not all tied to career and financial gain - an active outdoor lifestyle is encouraged here. There's a push to maintain the parklands and the City of Adelaide is promoting a more sustainable eco-friendly kind of lifestyle as well. All those things align with how I want to live my life."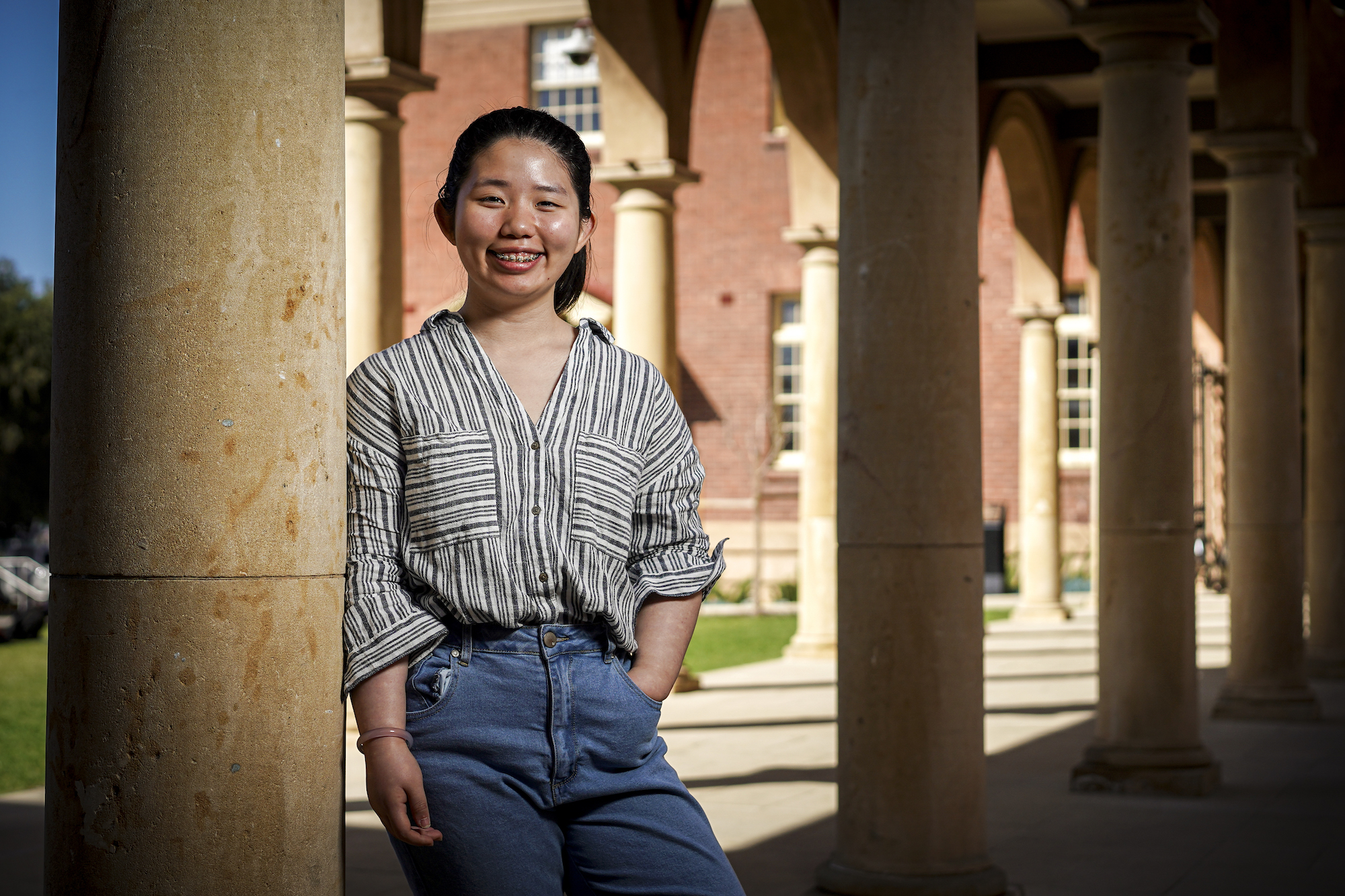 Fellow University of Adelaide student Elma Li, who is in her first year of a Law degree, describes herself as being "half-local", having spent the previous four years at Marryatville High School.
Now 19, Li moved from her home city of Guangzhou, China, to Adelaide after "falling in love" with Australia during an exchange visit to Brisbane and Sydney when she was 12.
She says her parents were very supportive of her decision to relocate because they wanted her "to open my vision". And Li – who has stayed in private family homestay accommodation – is likewise open to the idea of remaining in Australia.
"It all depends actually," she says. "I will grab any chance I can. If somebody offers me a job opportunity here I might stay or if somebody offers me a job in China I might go back ... let the chances lead me to it."
Li "loves" life in Adelaide, citing the feeling of personal security as a key benefit.
"Even though I might leave my bag in the library or somewhere nobody's going to touch it," she says. "I feel really safe here and I can trust the people. The people I've met are really welcoming and they also care about me a lot. Everyone's been really supportive of me."
Mark Ong, 21, is following in the footsteps of his father, Kok Hong Ong, who studied in Adelaide from the mid-1980s. The Malaysian Bachelor of Business (Property) student is in the final semester of the final year of the same course his father completed – although the institution has changed, from the former South Australian Institute of Technology to UniSA.
While his father had "strongly recommended" the Adelaide study move, Ong says he was initially attracted to Melbourne's "big city" appeal as it offered a closer fit to his home city of Kuala Lumpur. "But at the end I chose Adelaide ... and once I got to know it as a place, I got to know more about myself – and I grew here," he says. "That's what I really liked about it. Once I got here I did a lot of extra-curricular stuff. I took myself outside my comfort zone and saw myself growing here in Adelaide and that made me have a really deep connection."
Some of that growth was as a result of spending a year at Aquinas College, a university residential college in North Adelaide.
"It really helped me in settling in and getting to know more about the local people, culture and how amazing Australians are. Everyone was very friendly and very patient and would teach me Australian accents and things like that ... I even tried football – although I sucked at that.
"Another thing I like about Adelaide is the good mixture of nature and city life. What Study Adelaide likes to say is that Adelaide is the 20-minute city – you can get from one part of Adelaide to another in 20 minutes. You don't have to drive for along time or take long commutes – it's good."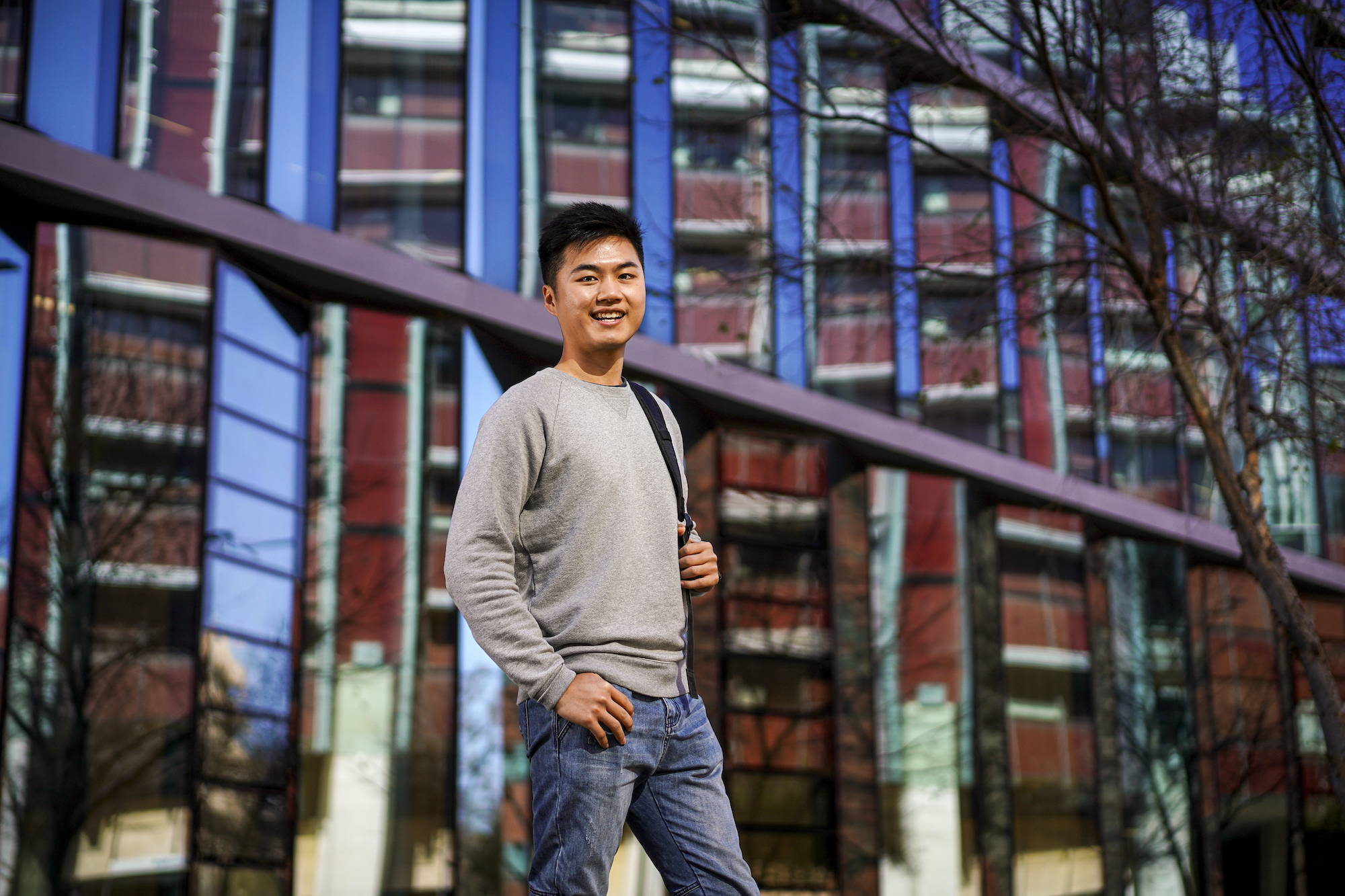 Karyn Kent says aside from the lifestyle attractions, factors such as government migration settings are also having a positive impact on attracting overseas students.
"The message from the state government is very clear that the door is open to international students to live, learn and stay," she says.
"Advantages include an extra year of post-study work-rights, bonus points towards visa applications, waivers for high performing graduates and access to a more extensive occupation list."
Kent says, not surprisingly, career opportunity is also a key motivator for students, with traditional industries such as wine, agribusiness, energy and minerals all attracting interest.
"It's also the emerging industries including health and medical, defence and space, hi-tech and creative – and reputation for innovation and entrepreneurship – which are helping to create the increasing excitement about Adelaide as an international study destination.
"With higher education qualifications earned in Adelaide, students can now work for a minimum of three years, giving local businesses extended access to their knowledge and skills particularly in occupations of high demand for these industries, such as engineering, IT, commerce and health."
Many South Australian exporters have enjoyed great success employing international students and graduates.
"International students deliver tangible benefits for these companies with their first-hand knowledge of export markets, their language skills and their networks, to support and help deliver the export aspirations of our local businesses," Kent says.
"Some of these graduates go on to establish their own SA businesses, which in turn employ locals."